HARMONY AGRI-SERVICES, INC.
located at the junction of highways 52, 44 and 139 in Harmony,MN

OVER 100 YEARS OF COMMITMENT TO AGRICULTURE IN SOUTHEAST MN
Harmony Agri Services origins date back to 1895 with a product history in feed, grain, coal, livestock, chemical and fertilizer. The company started out as a grain and feed business. In 1909 the business added a livestock enterprise and operated as the Wolsted Grain Company. After a few years coal was added and livestock eliminated and the company became known as The Harmony feed and Fuel Company.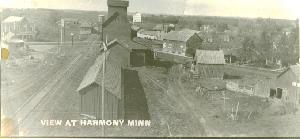 In the 1960's the fertilizer business was expanded. In the 70's the company was incorporated as Harmony Agri Services and saw the construction of the main grain storage and drying facility on the east side of Harmony.

The 1980's marked the completion of a new feed mill and the acquisition of the Preston, MN facilities.



An ag chemical mixing and rinsing facility was added in the 1990's.
Today the closely held private company concentrates on the feed and grain portions that originated the company after divesting the chemical and fertilizer aspects in 1996.
From the beginning back in the 1880's to the present, Harmony Agri Services has had the philosophy that if you provide good service, quality products and conduct business in a friendly, personal manner you will succeed and the community will succeed as well.
LET OUR EXPERIENCE AND EXPERTISE WORK FOR YOU.